Nene Education Trust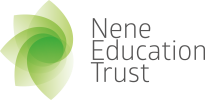 Newton Road School is proud to be part of the Nene Education Trust, formerly the Manor Learning Trust. The Trust is a family of like-minded academies focused in the Raunds and Rushden areas. Our vision is centered on developing character, raising aspirations and celebrating achievement.
Developing character:
The Trust is committed to developing the whole child. We are passionate about using the power of education to help our young people become individuals our community is proud of.
Raising aspirations:
Education should inspire; driving hope and ambition. The Trust creates the opportunities for young people to find where their talents and interests lie, and gives them the platform to achieve their goals.
Positive Environment:
We are a high performing Trust, catering for students from age four to 18. We recognise and champion all that our pupils and students realise and achieve.
For more information, please click here.
Annual Reports and Accounts:
For annual reports and accounts, please go to: Nene Education Trust Annual Reports and Accounts